THE GREATER SOCIETY – The governing body of all enlightened species of the Efilu realm. This is unofficially divided into the more influential Higher Societies and the participatory Lesser Societies and a variety of subspecies with less formal and hence, insecure status.
THE HIGHER SOCIETIES
THE SUPER HUNTERS
Alkyz – The largest of the class. Golden brown with ruby red highlights. The fur-like pile is mostly short, except at the back of the head, neck, forearms, and calves. The ears are relatively small and inconspicuous, and rounded rather than pointed. Size: 25 to 30 feet, 5000 to 10,000 pounds. The largest and strongest of the Super Hunters. Previously ALKZ, the name evolved into Alkyz after the Exodus. They are well known for their administrative and diplomatic skills.
NELKY (Obsolete) – Over the 65 million years since the migration known as the Exodus, the name has evolved to adhere to the nomenclature of Super Hunters (-lkyz suffix) by changing to Melkyz. They are among the most brilliant strategists.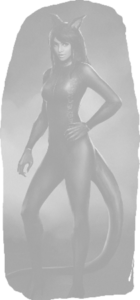 MELKYZ – Small therapodian people of the class of Super Hunters descended from a distant ancestor similar to the Velociraptor. Jet black to black and white marbled coat. The fur-like down has the consistency of mink or ermine, only softer, with a delicate, lightly oiled sheen. They have the ability to Blend into any surroundings. The large, pointed ears and long lean tails overall give the Melkyz an appearance much like a cross between a human upper body (including human facial features and hands) and a predatory kangaroo (kangaroo-like lower body with retractable claws). Size: 6 to 8 feet from head to toe when standing, 5 to 6 feet when sitting on haunches, 300 to 600 pounds of dense muscle.
SULENZ – Small, (6-8 feet tall) lean (300-400 pounds), almost tailless omnivores with soft, slick, pewter-gray pelts. These weaselly people primarily eat mollusks and insects they raise on ranches or farms in order to exploit their meat and honey. Sporting tiny tails, they are reminiscent of large prairie dogs.  They are among the most gifted telepaths, but not very popular among higher society. The Sulen adapted the "z" at the end of their name to insinuate themselves into the Super Hunter class. They were never accepted as such among the Efilu. Because their population failed to keep pace with other higher societies, many in the Realm relegated the Sulen(z) to the lesser societies.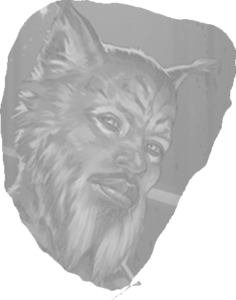 TRALKYZ – Charcoal gray/black coats with dull, fur-like, sound-absorbent plumage. Blue-gray highlights. Second largest of the Super Hunter races, they are heavily muscled, with thick, powerful tails. Ears are proportionally smaller than those of Melkyz and have tufts of feathers that fan out from behind the ears and glow red as a warning or when prepared to attack. Size: 15 to 18 feet tall, 2,000 to 3,000 pounds (Chiefs are bigger, at 22 to 25 feet tall and 4,500 to 7,000 pounds). They are unpredictable in every respect, except for their viciousness. They are known to always attack in pairs. Pound for pound, they are the fiercest of the Super Hunter class.
WILKYZ – Tan, auburn, brown, and burnt orange striped coats. Structurally similar to the Melkyz with rounded ears, but a little bulkier in the chest and shoulders. Long and lean with more substantial tails, they stand 12 to 15 feet from head to toe and weigh 1,000 to 2,000 pounds. Smaller than the Tralkyz, these Super Hunters usually travel alone or in small groups. They possess the ability to merge divergent time-lines temporarily, Time-Splitting. The effect produces the illusion of greater numbers, for the purpose of briefly confusing an enemy, or attacking with overwhelming force. For short periods, parallel persona can collaborate on intellectual projects.

VANSAR – Avian people. Tall and slender, with wings that are powerfully muscled. Super joints allow for conversion from wings to effective arms and hands, almost instantaneously. Brilliantly colored, the plumage is a neat mixture of wide bands of golden yellow, orange, and iridescent purple. The bones are hollow and lightweight. The Vansar are disproportionately strong for their mass. Size: 800 to 1,000 pounds, 25 to 32 feet tall. It is widely believed that the Vansar race is the origin of the Phoenix legend. Vansar are among the largest avian species in the Efilu Realm. They rival the So Wari and Tyen in length, if not in mass.
PACHYDERM PEOPLES
SO WARI – Brown suede-like hides of various shades. The dorsal plates are hunter green but become marbled with age. The pointed, rabbit-like ears are long and move from flat against the head to stiffen sideways in a horizontal rather than vertical position, nearly straight out from the head when on alert or alarmed. Subtle changes in orientation focus on the source of sound without revealing alert status. So Wari are bulky, nearly muscle-bound in appearance, but incredibly fast and agile. They are the largest extant So species and are among the biggest of the land-dwelling Efilu. Size: 25 to 30 feet tall, 10,000 to 20,000 pounds.
SO BENI – Extinct So species. The average specimen was smaller than the extant So Wari. Tan, with yellow and green dorsal plates. Size: 23 to 28 feet tall and 7,500 to 14,000 pounds. Large saurian people; among the most influential and physically powerful. Their ancestors were herbivores, similar to the Stegosaurus. They and their successors were known for their military and engineering skills. They were eventually supplanted by the So Wari.
SO RIKHI – Smallest of the extant So species. Bulky and fierce, with permanent patches of armor fused from sections of their pelts during adolescence. Size: 8-10 feet tall, 800-2,000 pounds.
SI TYEN – Evolved from the typical European winged dragon physique. They have short, gun-metal gray mixed pile, with long silvery plumage. The build is intermediate, between that of the Alkyz and the So Wari. They stand 28 to 33 feet tall and weigh 8,000 to 14,000 pounds. Often referred to as TYEN; technically, Si Tyen is correct. They are distant relatives of the So species. These people have developed a pair of oversized dorsal plates that function as wings. A few stayed behind to try to salvage the Earth from the catastrophe caused by the Sulenz. The Efilu called them "The Keepers" short for "Keepers of the Faith." We know them from our distant memories as Dragons; Dragon was the proper name of the leader of the original Keepers who stayed behind.
ROOGS – Marine dwellers. Roogs are large aquatic people who raise fresh produce and develop biologic power sources, as well as designing most large complex space craft like the ReQam. Deep blue-green matted pile with moss green patches. Broad, powerful jaws are set in a humanoid face that sits atop a long neck. They resemble giant manatees. They have oversized five-fingered hands connected to very short, powerful limbs with fin-like webbed feet. Size: 40 feet long. 18,000 to 30,000 pounds. Although amphibian, on land they travel in large water-filled corpuscles—sacks shaped like gigantic red blood cells that float on force fields.
MINOR or LOWER SOCIETIES
DENAR – Medium-sized fishers, they eat small game and occasionally supplement their diets with fruits and nuts. They are easily irritated. Their coats are an unassuming brown, with reddish patches around the eyes. They are 12 to 14 feet tall and weigh from 1,000 to 1,200 pounds.
GEN ROST – A cross between an owl and a penguin in appearance, Gen Rost are awkward when walking and possess limited flight capabilities. They have loose, short brown feathers with a few white accents. They live in humid, swampy climates. Size: 6 to 7 feet tall, 200 to 300 pounds.
IRONDE – Nomadic by nature, the Ironde are also omnivorous. Large, nearly rotund, they have short, thick tails and are covered from head to toe with long, luxurious, snow-white plumes that become deadly when stiffened. They resemble a cross between a giant porcupine and a badger. The face is a deep teal green. Size: 12 to 14 feet tall, 1200 to 1500 pounds. Formerly IRFONDE, theses omnivorous people have a loose nomadic trading culture and are well-known for their adaptive skill using very little raw material. They are power producers and hardware suppliers for many of the lesser societies.
KINI TOD – Turtle-like appearance. Red-orange armor with green borders and bellies. Short, thick club-like tail. Size: 5 to 6 feet tall, 400 to 800 pounds.
MIT KIAM – Graceful and muscular, the Mit Kiam wear long, fur-like feathers and are shaped like ermine or chinchilla. The coat is a blend of golden tan, brown and red-brown hues. Serene, even tempered, difficult to rile. The plumage about the head is particularly spectacular, with contrasting highlights and dark tips. They stand 14 to 16 feet tall and weigh 1200 to 1600 pounds.
NOTEX – This species shows another example of super joint development. Lean, with disproportionately long legs, Notex have hyper-speed capabilities. They can achieve and sustain speeds as fast as 200 miles an hour, almost instantaneously. They alternately manipulate the coefficients of friction from 0 to 100% along the soles of their feet with each stride in a skating like motion. Darkly-colored indigo blue, with hints of violet, obliquely striped plumage throughout the body with razor sharp, blade like quills along the forearms. The tail is rigid and moves as a counter-balance. They are 8 to 10 feet tall and weigh 800 to 1100 pounds.
TAL GENJ– A herbivorous people, they bear coats of rich brown, sporting short plumage with black accents—think of our deer markings. They have a frill or upper facial ridge above the forehead anchored to an array of flexible antlers. The effect is that of a neat, complex display of gleaming curls in females or dreadlocks in males. They are slender-to-medium in build and graceful. Size: 12 to 14 feet tall. 1400 to 1700 pounds.
TAN BARR– These herbivores have fluffy gray down with stripes and patches of purple-to-mauve plumage. They are medium-sized, stocky Efilu shaped like humanized koala bears. Size: 10 to 12 feet, about 1000 pounds.
The Unabridged Translator… to be continued.